Four Seasons in Havana is a love letter to TV film noir and the people of Cuba. It's a miniseries based on novels by Cuban writer Leonardo Padura with a police lieutenant as the main character. The four episodes on Netflix are very much in the tradition of TV film noir series like Jack Taylor and Jack Irish. Four Seasons in Havana (Cuatro Estaciones en la Habana) fits the genre comfortably, and while it doesn't push stylistic boundaries, it's an unusual TV series in other ways.
Most US viewers have not seen Cuba this up close and personal. There are the expected scenes with 50s, 60s, and 70s automobiles and elegant, but fading, architecture, but there is much more. Over the course of the series we meet cops, artists, petty criminals, regular folks, and career diplomats. It's a rich palette that feels genuine and closer to "real" Cuban society and culture than most of us are likely to get.
Mario Conde (Jorge Perugorria) is a cop with the Cuban police, but a writer at heart. When he's not tracking down leads, drinking with friends, or falling for beautiful women, he pecks out pages of his novel on an old typewriter. He's as casual and disheveled as any plainclothes detective in Britain or France, somewhat unexpected given his rank and our assumptions about Cuban law enforcement.
Conde's boss is Major Antonio Rangel, a likeable guy who tries to be more stern than his nature allows. He buffers some of the corruption and political pressure that threatens to derail aspects of Conde's investigations. Family members of government officials are involved in some of the cases. In one episode, the victim is a gay man, and we learn more about what that means in Cuban culture. It's unexpectedly direct and unvarnished for TV filmed in Cuba.
Most TV film noir-style series succeed or fail on the likability of the main character. The success of Four Seasons in Havana is no exception. Perugorria wears the part well. Conde is an effective, intuitive policeman, but more at ease listening to Creedence Clearwater Revival and hanging out with his best friend, a paraplegic, long-haired former activist. The two drink to excess and carry on about life, love, politics, food, and more until Conde stumbles home to work on his writing. Given that he wants to write "squalid and touching stories," they are probably a lot like Four Seasons in Havana.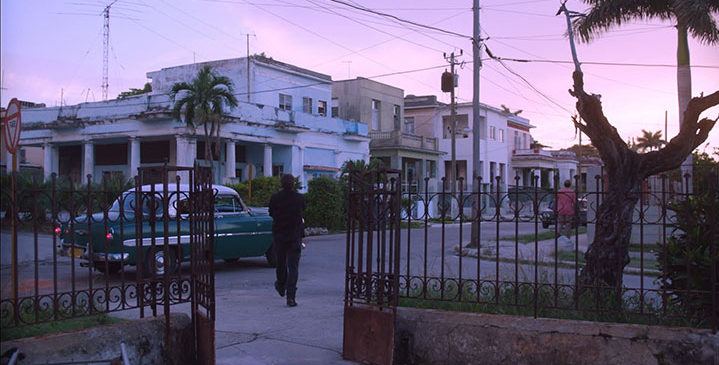 Each episode in the Four Seasons in Havana TV series follows a new case, but it's best to start at the beginning. The episodes are about 90 minutes each, the length of many feature films. They are not fast-paced, but there is some action, suspense, mild violence, and passionate – but not graphic – sex. It's exactly what you would expect a noir detective series set in Latin America to be.
Leonardo Padura, writer of the original novels, wrote the screenplay along with Lucia Lopez Coll.  The series was directed by Felix Viscarret and produced by Spain's Tornasol Films. Put it on your Netflix list.
Scroll down for comments….
'Four Seasons in Havana' TV series trailer