River – the TV series that debuted on BBC One in October 2015 and arrived on Netflix a few weeks later – has one of the most interesting twists we've seen lately in a traditional British police procedural. It happens early in the first episode and continues to evolve throughout the six episode TV show. To say too much about it would spoil the fun, which may not be the best choice of words, since River is dark and intense, with one of the most brooding and introverted cops you will meet on television, streaming or otherwise.
Stellan Skarsgard is DI John River, a troubled and damaged detective haunted by recent, tragic events, who also carries his own demons that make him both totally suited – and totally unsuited – for his job. Skarsgard brings an intensity to the role that takes his character far beyond the cliche of a maverick cop who plays by his own rules. He can be soft and ethereal or grumpy and manic, with waves of emotion flowing over his face as his brain carries on an internal dialogue. It's Skarsgard's first role in a police procedural, though he would be perfect for any number of Nordic noir type shows. (We can easily imagine him as Wallander, even though Krister Henriksson already does a fine job in our favorite version of Henning Mankell's creation.)
The plot remains focused on one central case, a murder mystery, which, as the TV series progresses, veers in unexpected directions. There are a couple of side cases in the early episodes, but they serve mostly to fill out River's character, making him even more complex than we originally thought.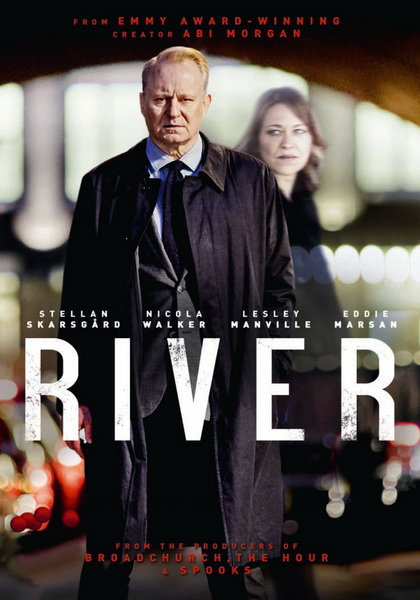 Though the show moves at steady pace, there is little of the typical TV cop show violence and action. River has a few short chase scenes and bloody incidents, but much of the suspense and tension is psychological, even as the procedural aspects of the case continue. We start to wonder whether the murder or River, himself, is the larger mystery. A number of themes, including isolation, the nature of close relationships and how we respond to personal tragedies, are woven throughout.
River also stars Nicola Walker as Jackie "Stevie" Stevenson, River's partner, and Georgina Rich as a patient police psychologist. Adeel Akhtar plays DS Ira King, providing under appreciated support to River during difficult times.
River, the TV show, was created by Abi Morgan, known for films such as The Iron Lady and Shame. It's her first cop show, and she brings fresh ideas to an overworked genre. If you are a fan of police procedurals and dark drama, River should be at the top of your Netflix TV shows list. The series arrived on Netflix with little fanfare about the same time as Jessica Jones and, over on Amazon, The Man in the High Castle. Let's hope it doesn't get lost in the shadow of these more heavily publicized series.
Scroll down for comments…
River TV series trailer