Is crime-comedy a genre? If so, the Small Time Gangster TV series from Australia on Netflix falls neatly into the category. There are laugh out loud moments in every episode along with moments of tension and suspense and a cast of characters that could have been lifted from the pages of an Elmore Leonard novel.
Tony Piccolo, played by Steve Le Marquand, is just what the title says he is, an enforcer and, when the occasion calls for it (and sometimes when it doesn't), hitman for Barry Donald (Gary Sweet), the leader of a small, mob-type gang. Tony has been maintaining a cover as a carpet cleaner. He has an employee who cleans carpets while Tony goes about his other business.
Tony's wife (Sacha Horler) is not aware of his crooked, other life, just as Barry is not aware that Tony is married with kids. When Barry decides to have his seemingly inept son, Charlie (Jared Daperis), apprentice with Tony, things get even more interesting.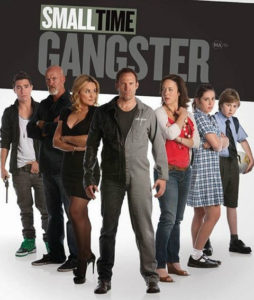 As the series progresses, the facade starts to crumble. Tony is not quite as ruthless as his reputation and ultimately has to decide whether family or his gangster income is more important to him. There are a number of twists and turns along the way, and it's all over much too soon.
Small Time Gangster originally aired on Movie Extra in Australia in 2011. There are only eight episodes, each clocking in under 30 minutes. It's the kind of lesser known TV series that sometimes comes and goes on Netflix. If you enjoy dark comedy, sarcasm and the Australian sense of humor, we recommend watching it soon. There has been no word of Small Time Gangster season 2, and we are not expecting one, though HBO has supposedly produced a reinterpreted version of the series for its European market.
Get a very small taste of the TV show in the trailer below.
Small Time Gangster trailer