The Prey TV series – mini-series, really – is a two-season British crime thriller on Hulu. Each season follows the tried-and-true theme of an innocent man on the run. The twist here is the innocent men are cops, caught up in unusual predicaments, with their fellow police believing them guilty of serious crime. Fast-paced, with lots of on-the-run action, Prey is made for quick bingeing. Each season of the Prey series clocks in under three hours.
Prey TV Series Season 1
Season one of Prey follows the case of Detective Sergeant Marcus Farrow, played by John Simm. In the opening scene, he crawls out of a harrowing vehicle crash – I'm leaving out lots of details – and takes off on foot. We don't yet know who he is or why he's running. The story jumps back to three days earlier, and off we go.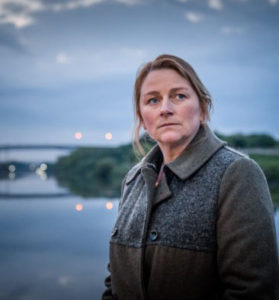 The other lead character is Detective Sergeant Susan Reinhart (Rosie Cavaliero, right). Her part comes into focus slowly; she's a side player at first. It's a savvy way to introduce her. Reinhart is not particularly likeable, and personal problems are affecting her performance on the job. Soon, however, she's in charge of the Farrow case, leading the hunt through a series of missteps.
Of course, Farrow finds he cannot trust all of his friends. Convincing an ally to provide assistance and then proving one's innocence is standard procedure for a man on the run thriller. Prey season 1 is no different and doesn't stand out from the crowd, but it's fast and fun with a bit of suspense.
Prey TV Series Season 2
A different crime and a different man on the run, but otherwise, Prey season 2 sticks to it's formula, including a catchy opening scene and a jump back in time. Farrow is gone – too bad, he was a good character – and in his place is David Murdoch (Philip Glenister), a prison guard.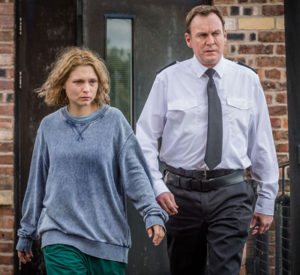 DA Reinhart returns, though. Her personal life is slightly more stable than in the first season, but she's not completely content. It takes a while to come around to her, to be on her side, but we relate to her predicament and frustrations. She's no Stella Gibson, more like Catherine Cawood, a realistic portrayal of a female detective with issues at home and on the job.
Prey's second series is not as fresh as the first. Shaking up the formula more would have helped. It's still a good ride, but we suggest waiting a week or two after the first season before watching the second.
Prey was created and written by Chris Lunt and directed by Nick Murphy. Season 1 aired on Britain's ITV network in 2014. Season 2 followed late in 2015. Both series, six episodes total, are available on Hulu.
Prey Series 1 Trailer