This documentary is a change of pace that some viewers will find fascinating; others may prefer a typical online TV fictitious crime series. The Detectives TV series follows several cases within the Manchester Serious Sexual Offences Unit (SSOU) – a real life SVU, for Law & Order fans – as the investigators interview victims, interrogate suspects and search for evidence in several disturbing cases, usually involving rape of teenage girls and young women.
The Detectives appears on Netflix with little information, looking like any other BBC crime series. When we first started watching, it took a few minutes to get oriented and realize we were following a real life police unit, not a mockumentary style show. The series is low on action, but by the end of the first episode, the cases and individual stories are compelling enough that you will want to keep watching.
The Detectives tracks one case through all three episodes with additional smaller cases resolved in each hour. The extent of the central case is almost overwhelming. It is decades old and involves many incidents with many girls over many years. There is nothing sensationalized in the presentation. The information is given objectively, and both victims and suspects are treated with respect.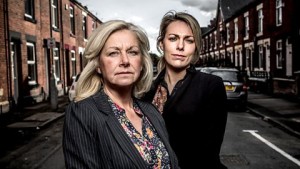 In contrast to most network and cable TV true crime stories, this journalistic approach actually gives more weight to the seriousness of the offenses. As the crime series progresses, we come to realize – at least to the extent we can – the impact of sexual assault on the victims, the perpetrator's families and the police in the SSOU. These are dedicated investigators, devoting much of their lives to crimes that most people are not equipped to deal with. In addition, these crimes are often difficult to prove, and the conviction rate is low.
The true heroes of The Detectives, however, are the women brave enough to report rape and assault and follow the cases through trial. Though we only meet a small number of them in the series, there are many others like them.
While this is not an upbeat TV series, there are moments of satisfaction, and the real life stories are compelling. If you are looking for actual reality TV, you cannot do much better than The Detectives. The series first aired on BBC Two in summer, 2015, and appeared on Netflix soon after. There are three, one-hour episodes, perfect for a night or two of online TV watching.