A feast for the eyes and a puzzle for the mind, the Babylon Berlin TV series grabs on early and doesn't let go. Though it takes a while to figure out what's going on, there's lots to enjoy in the meantime. The 1929 Berlin setting is drab, but scenes staged like a musical, colorful characters, stylish clothes, and a roaring 20s ambiance stand in contrast. It's clear immediately Babylon Berlin's creators have a broad and comprehensive vision for the series. Crime, politics, arts form the backdrop of a suspenseful drama told with style and panache.
The arts and decadence flourish in late '20s Berlin, but it's near the end of an era. The freedom won't last long. Hints of a more oppressive regime bubble to the surface in Babylon Berlin. The series website notes part of the Babylon Berlin experience is "… how a young, promising democracy with great progressive tendencies could descend into a rule of fascism."
A roster of players confuses the first episode. Gereon Rath (Volker Bruch), a cop from Cologne on assignment – for unclear reasons – is working with Berlin cop Bruno Wolter (Peter Kurth), who has a knack for being wherever something important happens. On a raid, they capture a suspect, but have different styles and interests in questioning him. Rath and Wolter share an under-the-surface, mutual distrust.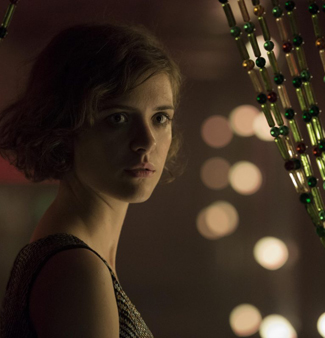 Lotte Ritter (Liv Lisa Fries, right) meets Rath at the police station where she vies with other young women for contract clerical work. Lotte hits the nightclubs after dark, sometimes venturing into the basement where various erotic ventures take place. She's working to support her family and is particularly protective of her young sister, trying to keep the girl in school.
Meanwhile, a group of Russian socialists plot to bring a train car with special freight across the border from Russia to help finance the revolution in Germany. They've set up shop in a basement, and are a planning a big May Day event – among other things – but there's a spy in their midst.
More story threads make up the mix. There's a secret film several people are looking for, and references to deals and arrangements. The cast of spies, soldiers, cops, artists, and activists vie for information, money, and control. Without a scorecard, though – at least in the early episodes – you don't always know which team is which. Of course, that's deliberate. Part of the fun is trying to unravel who is who and what their motivations are.
The Babylon Berlin TV series was created by Tom Tykwer, Achim von Borries, and Hendrik Handloegten, and based on books by Volker Kutscher. Sky TV and German public TV channel ARD co-produced the series, which first aired in Germany October, 2017. In the US, all 16 episodes, 45 minutes each, are on Netflix.