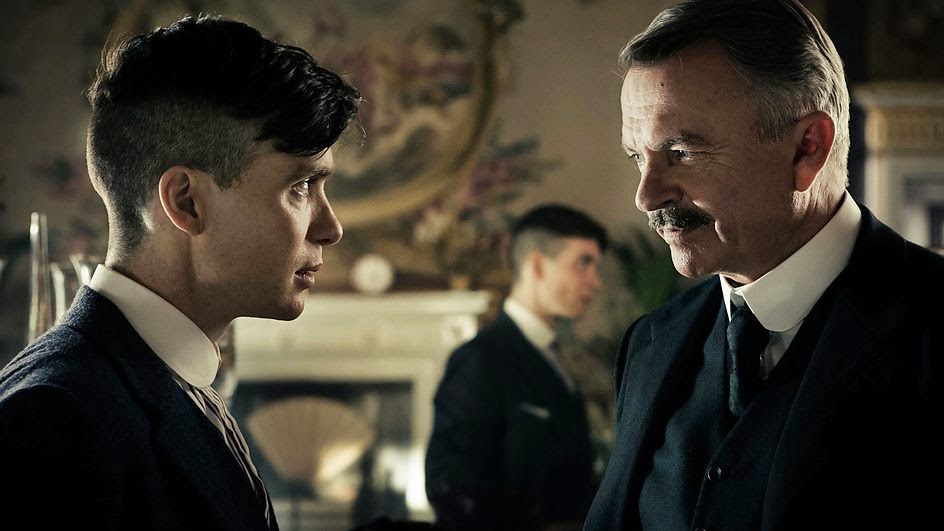 Cillian Murphy and Sam Neill
"Peaky Blinders" is a gangster series set in 1919 Birmingham, England. This BBC TV show on Netflix – billed as a Netflix Original – contains few original elements, but is still well worth your time. The directing is stylish, the acting is good, and the plot contains the right amount of turns and twists to keep you interested. Though you will not often be truly surprised, by the end of episode 1 you are likely to be drawn in enough to keep watching.

The show is centered around a family-run gang known as the Peaky Blinders after the billed caps with inset razor blades its members are fond of wearing. In the aftermath of World War I, veteran Tommy Shelby has taken over control of the family business from his Aunt Polly. She managed the gambling and protection business while most of the menfolk were fighting in the war.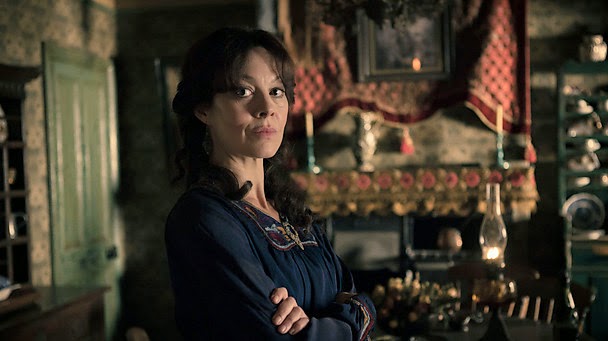 Aunt Polly
Tommy is ruthless, smart, quick tempered, and cunning, with a strong instinct for protecting his family as he sees fit. He brings to mind an earlier version of Ray Donovan from the Showtime series, though, overall, the show is a much closer match to HBO's "Boardwalk Empire." Tommy is played by Cillian Murphy, who with boyish good looks and charm manages to makes Tommy a likable character. Sam Neill has the opposing lead role as Chief Inspector Chester Campbell, sent to clean up Birmingham and, more importantly, find a stolen shipment of guns.

The show contains familiar elements: rivalry among brothers (there is an older brother, but he is not the leader), a sister who takes up with the "wrong" guy, a mysterious Irish lass and potential love interest for Tommy who appears out of nowhere, and the typical gangster tactics of violence and deception. The lone wolf gang leader seems to confide in almost no one, but stays one step ahead of rivals and the cops.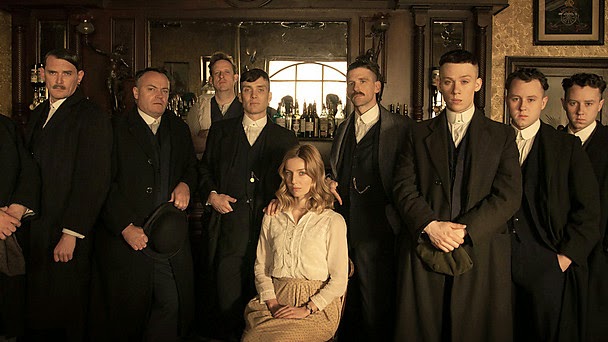 Annabelle Wallis as Grace with the guys in "Peaky Blinders"
Even with – and partly because of – all of this, "Peaky Blinders" is a fun ride. A mostly contemporary soundtrack that includes The White Stripes and Nick Cave, varied camera angles, and carefully staged scenes help to keep this from being just another historical BBC drama. In addition, the impact of the war on Tommy and some of his crew is also given fair play. He appears to suffer from PTSD, and though he maintains a cool exterior in public, demons return to haunt him at night.

The TV series also stars Helen McCrory and Annabelle Wallis playing strong female characters and go-to British actress Sophia Rundle as Ada Shelby, the sister in the family. The show was created and written by Stephen Knight, a veteran screenwriter whose credits include "Eastern Promises" and "Dirty Pretty Things." There are six one-hour episodes in season 1. Start watching online now so you will be ready for "Peaky Blinders" season 2, which is scheduled for release on Netflix in November, 2014.


"Peaky Blinders" Trailer from BBC Two