Sometimes a really good foreign TV series sneaks past the ace team of television viewers at netTVwatch. Such is the case with The Straits TV show, a crime drama from Australia that's been hanging around the back corners of our Netflix list since, well, we don't know when. Maybe it snuck onto Netflix with some higher profile series. Netflix can't tell us when it arrived either, but it is also available on Hulu. Anyway, now that we have watched The Straits, we highly recommend it.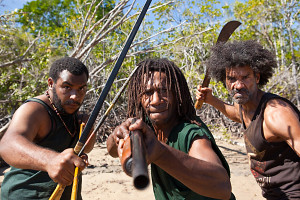 The story centers on the Montebello family, drug smugglers and gun runners in Cairns, Australia. They work with a gang of bikers and with connections and cohorts based offshore, in Papua New Guinea. Harry is the crusty, controlling dad in the family. He and Kitty have three sons and one daughter, each involved in and committed to the family business in varying degrees. With Harry aging and in less than perfect health, there is competition among the kids as to who should take over managing the operations. Some of the family and the island natives really are not cut out to be criminals, but they have few choices when Harry waves cash or strikes with a heavy hand.
The central theme of The Straits TV series may not seem particularly original – this type of family tale goes back to The Godfather – but it is presented in creative ways, with unexpected mixtures of violence, drama and humor. Like Bloodline, The Straits has brotherly competition and a general ambience derived from its tropical setting, but it moves at a faster pace and throws in a healthy dose of Elmore Leonard.
Of course, when crime is your business, things do not always go as planned. A lot happens in each episode, and there are frequent conflicts and complications. By episode 3, you may be wondering how, and if, they will all survive through ten episodes. Expect some surprises along the way.
The Straits is based on an idea from Noel Fa'aoso, who plays Noel Montebello, the middle son, in the series. The show has several writers and directors and first aired on Australian TV in 2012. Months later it was announced that Australian Broadcasting Company would not move forward with The Straits season 2. That's a shame. Look for The Straits TV show on Hulu or Netflix.