Finally, Hinterland season 2! Netflix took their time bringing us the second round of cases from Aberystwyth, Wales, and the surrounding countryside. Was it worth the wait? The second series of Hinterland episodes is just as dark and mysterious as the first season, so, for most viewers, the answer is yes.
Almost everything we wrote about Hinterland season 1 still applies. This police procedural is filled with silence. It is bleak and somber. Cinematic scenes of the Welsh landscape take the place of conversation. There is none of the dark humor found in Happy Valley. Instead, there are secrets and darkness.
Bodies are discovered in daylight, but much of the real action happens at night. Suspects are visited after hours, and DCI Mathias often returns to crime scenes after daylight has faded. His flashlight beam probes the dusty corners of faded homes and dilapidated barns. Despite the suspenseful moments that could be lifted from classic horror stories, Mathias seems to be most comfortable in the shadows.
Richard Harrington's DCI Tom Mathias is a weary man, with sad eyes and a furrowed brow. We knew almost nothing about his past after season 1. As Hinterland season 2 begins, it's not even clear if Mathias will be able to carry on as an investigator. Over the first couple of episodes, we find out more about what haunts him, enough to understand, even though we don't get – and maybe never will – the full story.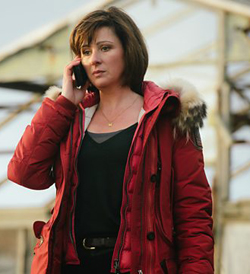 In some ways, DI Mared Rhys (Mali Harries, photo at right) is just as mysterious. We know nothing about her past. She's a single mom with a teen daughter. Whatever has happened, she is able to set it aside. Rhys functions much better in the real world than Mathias, often leading the procedural part of the cases while Mathias broods. It seems that each crime story reminds Mathias of his own situation, and he starts to slide back into the dusk.
The setting, staging, music and beautifully filmed scenes are as much a part of Hinterland as the story and the work of the actors. Ed Thomas and Ed Talfan are the creators of Hinterland and also serve as part of the writing team. Credit should also go to John Hardy for the soundtrack. There are five episodes in Hinterland season 2 on Netflix, each about 90 minutes long. It's the equivalent of five feature length films. Savor and enjoy them. Hinterland season 3 production is reportedly underway, but it will likely be a long time before we see it on Netflix in the U.S.
Scroll down for comments…
Hinterland season 2 trailer