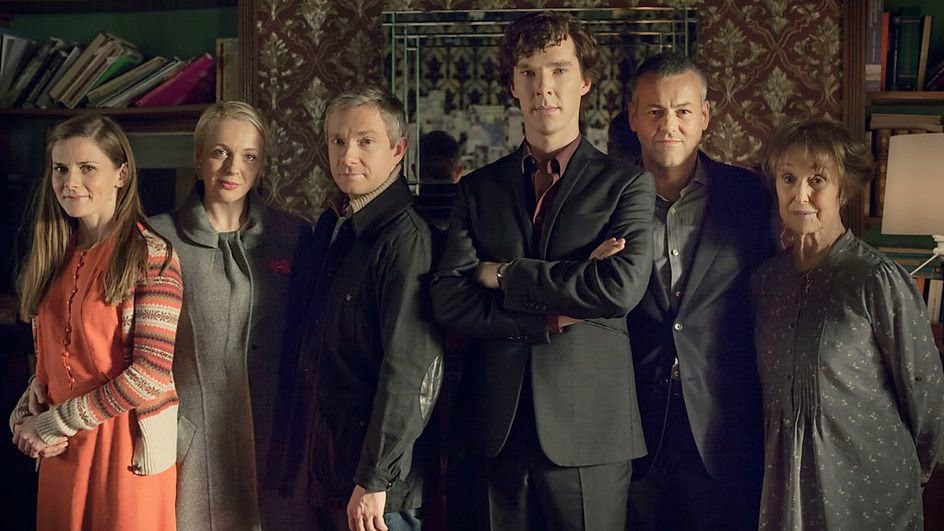 The main cast members of "Sherlock" season 3
As of June 2014, season 3 of "Sherlock" is available for instant viewing on Netflix. Serious, in-the-know fans may have seen these "Sherlock" episodes on PBS a few months ago, but the rest of us can now catch up on the latest capers of Britain's best loved detective and his loyal assistant, Dr. Watson. (For an overview of seasons 1 and 2, go here.)
When last seen, Sherlock Holmes had leapt off a building, presumably to his death, after being outsmarted by his arch nemesis, Moriarty. Of course, we knew Sherlock was not really dead, but were left wondering how he could have pulled off that stunt and survived. Though season 3 begins two years after the incident, within the first few minutes we see what really happened – or do we? The series quickly returns to its usual tricks: flashbacks, alternate scenarios, fast editing and overlying graphics to show us Sherlock's deduction process while also keeping us guessing.
Episode 1 in season 3, "The Empty Hearse," is loosely based on Sir Arthur Conan Doyle's "The Adventure of the Empty House." The new title, of course, refers to the not-really-dead Sherlock and also, we find out, the primary case in this episode. While working on the case, Holmes and Watson have to reconcile. Unlike us, John Watson thought Sherlock actually was dead; his return causes some distress and tension. Sherlock also has to come to grips with the fact that Watson now has a woman in his life. The personal drama and crime solving are well balanced in this episode.

Next up is "The Sign of Three," one step removed from Conan Doyle's "The Sign of Four." To avoid spoilers, it's best to say that this episode is focused on Watson and his fiancee, Mary. It may be the weakest episode to date in the "Sherlock" series. It has little to do with crime solving and much more to do with Sherlock, John and Mary. It is still entertaining and should not be missed as it plays an important part in the overall arc of the series. Still, it feels like somewhat of a misstep.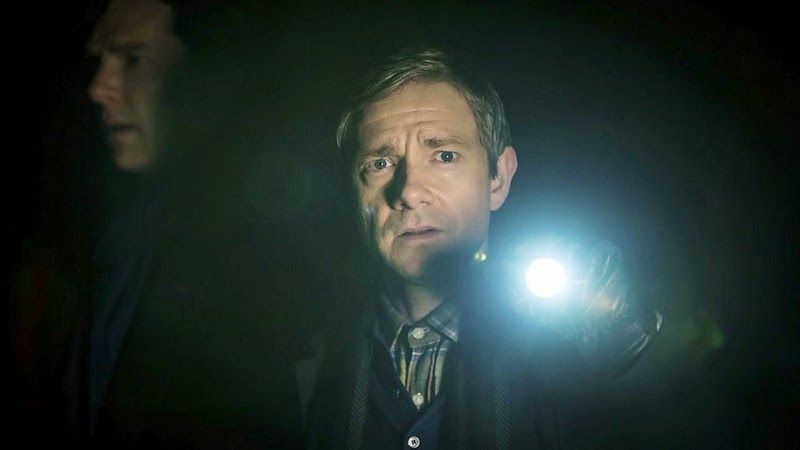 Martin Freeman as Dr. John Watson
The final episode in season three is "His Last Vow." If you were worried after episode 2 that the "Sherlock" series had lost its mojo, this should restore your faith. There is a new villain, visions of an old villain and major plot twists. Again, to avoid spoilers, we will not describe any more details. As a general theme, the episode deals with loyalty and disloyalty to family and friends. At the end, we are left hungry for "Sherlock" season 4.
"Sherlock" season 3 on Netflix has three behind the scenes features. Though titled as episodes, don't your get your hopes up. They will be fun to watch for hardcore fans, but in addition to hearing from Benedict Cumberbatch, Martin Freeman and the show's creators, there is a fair amount of redundancy and wasted time.

"Sherlock" remains a creative, entertaining TV series. It continues to have references both to the original Sherlock Holmes books and pop culture. If you enjoyed the first two seasons, add "Sherlock" season 3 to your Netflix list. You can binge watch on a weekend day or over the course of a couple of evenings.

Update: BBC has announced that Sherlock season 4 will be filmed in 2015. A "special" will begin production in January, 2015, to be followed by a three episode season.