Considering that we knew "who did it" in the first episode of this series, the creators of The Fall have done an amazingly good job of sustaining interest in the story of Stella Gibson and Paul Spector. The Fall season 3 held our interest all the way through, but, at times, we did wonder if this story has gone on a little too long.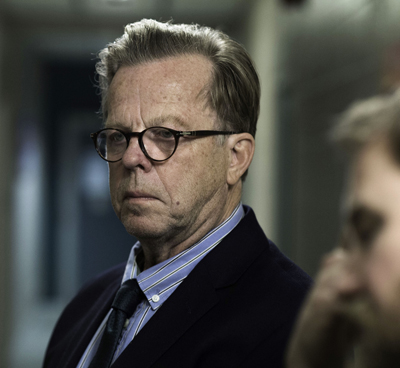 After a brief dream sequence, The Fall season 3 picks up right where season 2 ended. It's the same technique used between seasons 1 and 2, so you need to be familiar with the story so far. There's a lot of action in the first episode as the wounded are treated in the emergency department of Belfast General Hospital. We meet nurse Sheridan, who is mainly used to humanize Paul (as his daughter does). She only knows the post-shooting Paul and it raises questions as to whether he is a changed man.
We also like the take-charge ER doc (Richard Coyle). His character deserves its own series. Aiden McArdle steps in halfway through the season as another new character, Spector's attorney, Healy. He hopes to use Spector to boost his already high profile, or is it Spector that ends up using him? The best new character in season 3, however, may be Dr. Larson, played by Krister Henriksson, our favorite Wallender. There is tension as he and Stella try to align their sometimes competing goals and interests.
In episode 2, a slower, deliberate pace takes over. In our opinion, it continues too long. We are intrigued by the continued mind games and the question of how much Spector actually remembers, but it feels like an episode's worth of time could have been edited out of the season. A side story with Katie, the Spector-obsessed babysitter, mostly takes up time without really going anywhere.
This is not to say The Fall season 3 is without merit. It is still a better show than most of what you see on TV, streaming or otherwise. It just does not quite meet the high standards the series set for itself in the first two seasons. We spent too much time wondering if they were going to drag Paul Spector into season 4, as there is a long stretch where it appears the story will not resolve. Thankfully, it does. Things happen quickly in episode 6, and everything wraps up, if a bit too neatly.
Though we are thrilled with the idea of Stella Gibson returning with a new case in The Fall season 4 – according to creator Allan Cubitt, the show will probably continue – we are glad this storyline is over. All six episodes of The Fall season 3 are available on Netflix. If, by chance, you have not yet seen the series, start at the very beginning. The Fall is one of the best foreign TV shows on Netflix.