Top of the Lake is a seven episode mystery set in New Zealand. It was directed and co-written by Jane Campion. Campion has her detractors, but if you are comfortable with the leisurely pace and extended plot lines found in many foreign TV series on Netflix, you are likely to find this beautifully filmed drama to be rewarding viewing.
At times, the New Zealand landscape plays the leading role in this series. Vast, panoramic scenes demand our attention and often determine the course of this slow moving, intriguing drama that grows more complex with each episode. It becomes more than the case of a missing young girl it originally appears to be.
Top of the Lake stars Elisabeth Moss in the role of police detective Robin Griffin. It's a big change from her Mad Men character, but Moss is up to the challenge. The supporting cast is strong; Holly Hunter plays the leader of a cult-like group of women. In addition to Netflix instant viewing, Top of the Lake is available on DVD as of January, 2014.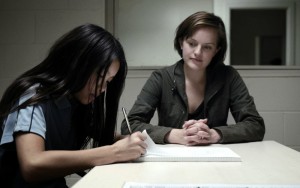 scene from Top of the Lake
source: Sundance Channel
Update, March, 2016: Top of The Lake Season 2 Announced
See-Saw Films has announced there will be a Top of the Lake season 2 with Elisabeth Moss returning to the role of Robin Griffin. Gwendoline Christie, best known as Brienne of Tarth on Game of Thrones, will also play a significant part in the new season.
The six episodes will premiere in 2017 on BBC2. Viewers in the U.S. can also look forward to seeing Top of the Lake season 2 in 2017 on Sundance, with Hulu – not Netflix – holding the streaming rights for day after viewing.