The new Irish TV series, Acceptable Risk, streaming in the US on Acorn TV, has television drama written all over it. Pushing no boundaries and wallowing a bit too much in personal drama, it still delivers a solid, suspenseful tale of murder and corporate wrongdoing. Based on the first two episodes, we eagerly look forward to the week by week delivery (how old fashioned!) of the remaining four episodes.
Lee Manning works for big pharma. He's an American citizen living with an Irish wife in Dublin. In Montreal on business, he is murdered (in the first few minutes of the show) on his way to a mysterious meeting. His employer is Swiss, but, in addition to the investigating Canadian and Irish police, his murder attracts the attention of German authorities.
Sarah (Elaine Cassidy), Lee's widow, used to work for the same company. Her first husband worked there, too, but died in a drowning accident three years ago. The firm, Gumbiner-Fischer, steps up to offer Sarah support, but it's clear they have their own interests foremost in mind.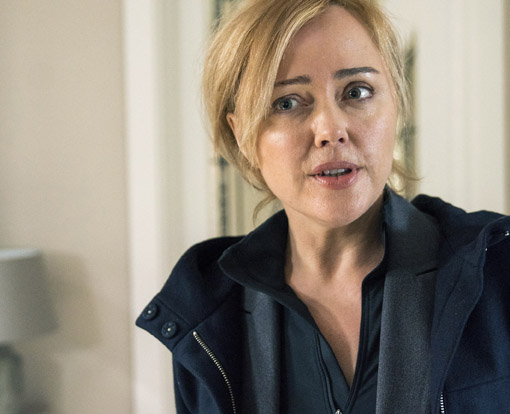 Sarah's sister steps in to help out with the two kids and as a sounding board for Sarah. An attorney, Sarah is quick to realize not all is what it seems on the surface. That's also clear to Irish Detective Sergeant Emer Byrne (Angeline Ball, right), who wonders what secrets Sarah might be keeping. Byrne stays in contact with the Canadian police who are managing the case in Montreal.
Lots more happens in the first two episodes. The complexity and forward-moving pace help, as Acceptable Risk has some faults. We question the likelihood of several events and the characters' behavior, but not enough to lose interest. We'll be watching as the rest of the series unfolds.
The Acceptable Risk TV series was written by Ron Hutchinson for Ireland's RTE One network, where it first aired beginning September, 2017. It is currently streaming on Acorn TV. (Scroll down for comments and updates.)
Acceptable Risk TV series trailer
Acceptable Risk episodes 3 and 4
(Warning: minor spoilers ahead.) Episode 3 of Acceptable Risk is particularly strong. After a week away, the recap at the beginning of the episode is particularly helpful, something that was missing from Loch Ness on Acorn. The series' complexity continues with DS Byrne, now on Sarah's side, digging deeper into the mysteries surrounding Lee's murder. Sarah does some digging of her own. Byrne runs up against a coverup conspiracy, which calls into question whether she will risk her career in the search for truth.
Episode 4 throws in some melodrama and sets the stage for the last two episodes. We now know the path that Byrne will take as she and Sarah turn into a dynamic duo investigative team. Though we expected more casualties along the way, the death at the end of the episode was not the one we anticipated.
Acceptable Risk episodes 5 and 6
The series maintains its momentum through the last two episodes, with Sarah becoming more strident and scenes moving at a steady pace. That's good, because stopping to reflect highlights the improbability of many of the events. Are Nuala and Patrick – two promoters or producers, it's not completely clear – the only ones savvy enough to realize the potential of the Gumbiner-Fischer real estate holding and try to put a deal together? Patrick's dramatic exit didn't quite ring true, either. (Those are just a couple of examples.)
Acceptable Risk never completely shakes its network TV characteristics, but it's still a good series. It has some good characters, complexity and surprises, and wraps up in six episodes. We recommend it, despite a few reservations. It's one of the better recent series on Acorn TV.