The BBC series "Exile" is a somewhat unusual, but deserving, entry in our list of Netflix foreign thrillers. It does not fall neatly into any category, starting primarily as a family drama about a man with Alzheimer's disease, a daughter that cares for him and the main character, his son Tom, a journalist who was fired from his job and has come home to lick his wounds. In time, a mystery does develop, but many of the clues are locked inside the father's head. Tom, played by John Simm, tries various strategies to uncover the past and, perhaps, reconnect with his father – Jim Broadbent is excellent in this role – during the process. It's a bumpy road, and there are many unanticipated events and incidents along the way.
( 2015 update: "Exile" can no longer be found on Netflix, but is available to Hulu subscribers.)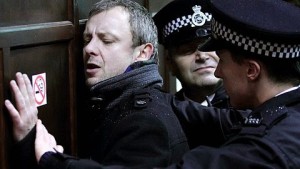 Anyone who has dealt with Alzheimer's knows that a sense of humor is often required to balance the feelings of loss and ongoing frustration that accompany this disease. "Exile" has moments of black humor that keep it from becoming too depressing. We also see the good and bad sides of all the main characters. Our initial impression of Tom is rather unfavorable. He's a bit of a druggie, a drinker and a womanizer with a quick temper that doesn't often serve him well. Along with Danny Brocklehurst's script, John Simm deserves credit for bringing us around to Tom's side as the story progresses. To say much more about the plot would undermine the pleasure of watching it unfold.
"Exile" was originally shown on BBC TV in 2011. It has three episodes, each about an hour long, which essentially makes it a three hour movie with two intermissions. Watching "Exile" is not a bad way to spend a rainy weekend afternoon or a couple of evenings; add it to your Netflix instant viewing list.