Scott & Bailey TV series on Hulu
Sally Wainwright's credit as writer and co-creator of Scott & Bailey is reason enough to check out this British TV series on Hulu. Wainwright is creator of Happy Valley, one of the best foreign TV series on Netflix. With Scott & Bailey, she stays within the confines of the all-too-familiar buddy cop show, though this one is a step above standard network fare. And, it has a decidedly feminist perspective.
It's not that Scott and Bailey are both women. That idea has been around since Cagney and Lacey. The cases are also standard cop show stuff. It's the writing and characters that offer a variety of feminine perspectives. Rape, abortion and sexism are all presented with insight into the issues involved, without being sensational or preachy. Scott, Bailey and the others all have real life situations at home, too. The more episodes you watch, the more you will find to relate to.
Scott is the veteran of the team and has to chide her partner – frequently, it seems – for minor missteps, both professional and personal. Their female boss – affectionately (or not) known as Godzilla – runs the squad with high expectations and little margin for error allowed. When any of the squad are called in and asked to shut the door, it's like an unwelcome visit to the principal's office.
There are four seasons of Scott & Bailey, eight episodes each, available on Hulu. While it's not the best Britain has to offer, it's still an enjoyable series for fans – both male and female – of detective shows.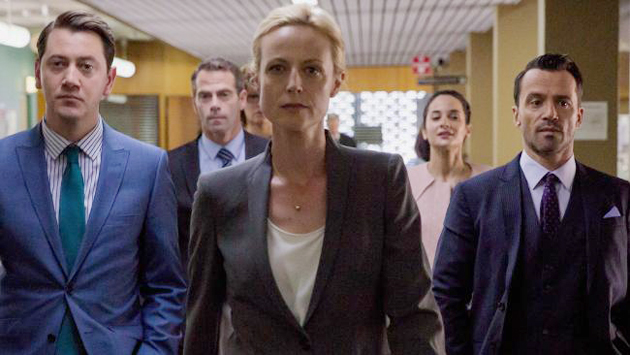 Janet King TV Series on AcornTV
From all appearances, the Janet King TV series from Australia features a woman in a position of power. King is a public prosecutor, returning to the job after maternity leave and ready to take charge. She has the drive and attitude, but continually bumps into obstacles. Initially, the series holds more promise than Scott & Bailey. Though Janet King has some characteristics of network TV dramas, in the first couple of episodes, it does not seem confined by them.
We learn that King is lesbian; her partner has halted her own career – for now – to be a stay at home mom. This is all refreshingly treated in a manner-of-fact way, and, as the series progresses, typical domestic tensions arise.
The mystery involved turns out to be a season long case involving murder and a child pornography ring. It reaches into the police department and, potentially, the prosecutor's office. This all makes for a strong start, but the writing lets us down.
By the fifth or sixth episode, the story is falling back on typical TV mystery tricks and twists. It's not hard to guess whodunit, even if we don't have all the details figured out. The same sex aspect of the story gets sensationalized, too, though it could be said the intent is to point out that professional prejudices about private matters are still in place.
The series is a spin-off of an earlier Aussie legal drama, Crownies, that included the Janet King character. The 8-episode first season of Janet King aired on Australian TV in early 2014. As we were writing this, Janet King season 2 also became available on AcornTV.  Overall, Janet King is better than the average TV drama – and Australian TV series available in the US have a strong track record – but our interest waned toward the end. Given a choice, we prefer the more complex characters in Scott & Bailey.