The Contact TV series from France pays tribute to American TV series, packaging intrigue, mystery, a touch of the supernatural, and a ruggedly handsome hero into easily digested 50-minute episodes. It's entertaining, with enough suspense and a strong central premise to keep watching, but ultimately, Contact ranks a notch below some of the best French TV series online.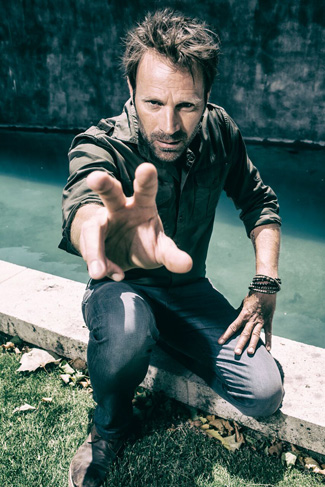 French citizen Thomas Adam (Thomas Jouannet, right) is trapped in New York. As Contact opens, we learn he was convicted for murder and sentenced to life in the US. Fortunately for Thomas, he has a special gift. When he holds – makes contact with – an object, he sees the memories others left behind. The FBI takes advantage of his special skill, freeing Thomas on the condition he use his talent to help them solve cases. He does, but after receiving a strange package and reading its memories, slips away to his native country.
The images associated with the mailed object convince Thomas his brother Eric (Alexis Loret), a cop in France, is in danger. Thomas shows up unexpectedly. He's a bit of an inconvenience and embarrassment to Eric, awkwardly inserting himself to help solve the kidnapping Eric is working on. Thomas' methods don't quite jibe with police methodology, but he helps anyway. Before long, even Eric's skeptical captain, Lena Ortiz (Hélène Seuzaret), comes around as Thomas reads objects to find information the cops don't have.
Events at the end of episode one tell us Thomas was right about the danger to Eric. Somehow it's connected to the murder of their parents and abduction of their young sister many years ago. Obviously Thomas will stay in France for awhile, on the lam from the FBI, to track down the threat to Eric. When episode two begins, he's brought in to help the police with a murder case, but the larger personal mystery continues.
Though the netTVwatch team spends little time with American cop shows, it's clear the Contact TV series fits right in with many of them. Nothing in the series pushes boundaries (though interesting twists pop up along the way). Thomas and the other characters are likable, if too generic.  The blend of mystery, drama, bits of humor, and a touch of French culture entertain without creating deep, lasting impressions. Still, when the full series of eight episodes debuts on Walter Presents, January 11, 2018, we'll be watching.
Contact TV series trailer