Belgium's Code 37 TV series – out this week on Walter Presents – is a rough and tumble cop show following a sex crimes unit on the Ghent police force. Think Law & Order: SVU for European TV, meaning coarser language, more nudity, and somewhat moderated violence. Knowing that sex sells, the English language distributors tagged Sex Crimes onto the original title. Each episode of Code 37: Sex Crimes tracks a single case, as well as ongoing personal stories. With 13 episodes in season 1, it's perfect for a foreign TV show binge.
Hannah Maes (Veerle Baetens) arrives at episode one's crime scene as the new head of the vice squad, surprising the three male team members, who were in the middle of telling dirty jokes. Maes is a matter of fact, no nonsense leader, not to mention quite capable. The three guys adapt and adjust, some better than others. It's clear tension will persist.
Kevin (Gilles De Schryver) is the youngest of the group; Maes starts mentoring him right away. Charles (Marc Lauwrys) enjoys his reputation as a tough interrogator. He has asthma and smokes. Bob (Michael Pas) is cranky, not happy about a woman in charge. They're a scruffy lot, in typical European TV cop style, but don't mess around when real work needs to be done.
And there is work to do. At that first crime scene, a woman found dead in a hotel room died during sex. She led somewhat of a double life, leading the team to a couple of obvious, but innocent, suspects. The usual twists and turns happen along the way, but nothing feels stale. Events move at a steady clip; we stay intrigued.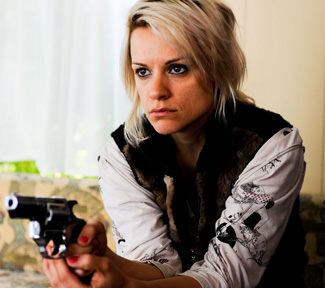 Maes (right) is sharp, picking up connections that other cops miss. She listens to Motown records at home and has a pet rabbit. A traumatic event happened in her past. We see brief flashbacks and suspect there will be more to come. She keeps this private, though, not sharing her personal life with the squad while they get to know her.
It's hard not to compare Maes with Louise Martel, the female police captain that arrived midway through Contact. Maes is a much more believable character, unlikely to wear 6-inch heels and skin tight capris to a crime scene. 
Episode 2 of Code 37: Sex Crimes is more graphic than the first, including some physical violence. It's an interesting case with a couple of good twists, though you may figure out the culprit before the police do.
The Code 37 TV series is a more engaging, convincing show than the previously mentioned Contact. (Having just watched both, it's hard not to compare them.) Handheld cameras add bite to Code 37's action scenes without distracting. Both have good stories – Contact may even have more creative cases – but Code 37's characters show more depth and are better acted. They look and behave like regular folks, not TV stars. (Okay, Maes is a bit more beautiful and stylish than the average cop on the force, but more believable than Valeria Ferro.)
New on Walter Presents with a premier date of January 18, 2018, and new to US audiences, the Code 37 TV series has actually been around awhile. Season one dates back to 2009, with seasons two and three following in 2011 and 2012. We hope those later seasons arrive here soon. Code 37: Sex Crimes has aged well, and we're ready for more. Season one's 13 episodes, 45 minutes each, are all on Walter Presents.
Code 37: Sex Crimes TV series trailer