With the popularity of Nordic noir on both the large and small screen, The Sandhamn Murders TV series from Sweden looks on the surface to be a strong contender in that genre. Based on a popular series of novels by Viveca Sten, this online show focuses on crime solving cops and local residents of a scenic island community. Ultimately, however, The Sandhamn Murders has more in common with TV series like The Midsomer Murders than it does with most of its Scandinavian counterparts.
The island community of Sandhamn (Sand Harbor) is to Stockholm what the Hamptons are to New York City. The wealthy summer there, overtaking local, year-round residents and vastly increasing the size of a small population. Many of the homes have passed down through generations, and it appears everyone knows everyone else. It's primarily a boating and bicycling community. Ferries go back and forth to the mainland; locals use their boats for fishing and transportation.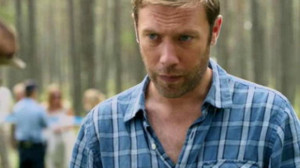 Jakob Cedergren (right) plays Thomas Andreasson, a policeman from Stockholm. Police ranks and districts aren't discussed, but it appears he has recently returned from a leave of absence, and volunteers to go to Sandhamn when a dead body is discovered by a woman swimming and playing at the sea with her children. (Warning – very minor spoilers ahead.) When Thomas questions the woman – Nora Linde, played by Alexandra Rapaport – she realizes they were once in school together. A few sparks fly, even though Nora is married.
Nora and her children have a knack for being in the wrong place at the wrong time. They somehow become entangled in every case.
This is not Wallender's Sweden, and it's one of the things that keeps The Sandhamn Murders out of true Nordic noir territory. The sun always seems to be shining, and, given that the cases all happen in summer, there is little darkness, no snow, ice, gray skies or sense of desolation.
The characters, regardless of age or role, are almost all exceptionally attractive. We know this is Sweden, but still! With the quaint seaside setting and well dressed townsfolk, some scenes look like pages from a J. Crew catalog.
Despite these quibbles, The Sandhamn Murders is an entertaining, well-produced TV series. The plots are somewhat predictable, with the usual red herrings and twists, but they move along at a steady clip. The main characters are likeable, but not particularly complex.
There are a few scenes with blood and body parts, but almost all violence happens off-camera. Hard core crime series fans may find The Sandhamn Murders a little too prim and proper, but if you enjoy Midsomer Murders and Foyle's War, you will likely feel right at home in Sandhamn.
The series has three seasons, each with three episodes covering a single case. Thomas and Nora are in all three seasons, but Thomas gets a new partner for season 2. With each season lasting just over two hours, The Sandhamn Murders, watched online via Hulu, is a pleasant way to spend a summer weekend.