Witnesses season 2 snuck onto Netflix July 1 among dozens of shows and movies. The first season of this French thriller is one of our favorites, and we watched eagerly to see how season 2 stacks up. Witnesses is still one of the very best French TV shows available in the US. It's highly original and beautifully filmed, but now and then falls back on conventional thriller shortcuts and cliches. Most of the things we liked about season 1 are still in place, along with a few minor complaints.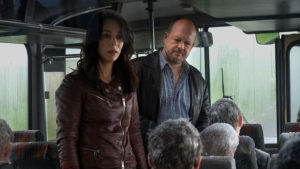 Witnesses season 2 opens with the discovery of an eerie crime scene. It's reminiscent of the first season where recently deceased corpses were staged in model homes. Here, the dead bodies, all frozen, are sitting in an abandoned bus. Minutes later (in TV time) a woman suddenly awakes in a car parked on a public street. She is frantic and suffering from total amnesia. Are the two cases related?
Marie Dompnier returns as detective Sandra Winckler, and it's her job to find out. She's lives as a single mom now, separated from the father of her two daughters. Her work keeps her from spending as much time as she'd like with her girls. Sandra's police partner, Justin (Jan Hammenecker), is also back.
The woman with amnesia is Catherine Keener, played by Audrey Fleurot of Spiral and Elite Squad. It turns out she has two daughters, who now have an emotionally distant mom. The parallels – and there are more – between the female leads are obvious. As the story progresses, Catherine is like another side – or an alternate version – of Sandra. It's an aspect of Witnessses that moves deep into psychological thriller territory.
There is also visual depth and interest. The northern coast of France is a dramatic land and seascape with vast beaches, verdant green fields, striking landforms, and forests suitable for hiding. Artistic settings and careful camerawork reveal connections and similarities between characters and heighten interest.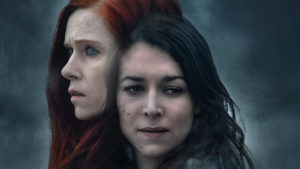 Sandra Winckler was a particularly savvy cop in Witnesses 1. She still is, but some turns in this case leave her frustrated, unable to find answers. An unstated bond between her and Catherine creates both issues and opportunities. At times, their respective roles seem reversed.
At it's heart, Witnesses is a police procedural, but the series again hovers on the edge of horror and the supernatural without actually crossing over. Some viewers will find a little too much French existential drama. Some events are highly improbable, and the story takes a few convenient shortcuts, but everything else about Witnesses makes this easy to overlook. We are tempted to say more, but don't want to spoil the fun!
Witnesses (Les Témoins) was created by Marc Herpoux and Hervé Hadmar. Witnesses season 2, now on Netflix is eight episodes, two more than season 1. If you haven't seen either season, clear your calendar and start with season 1.
Witnesses season 2 trailer