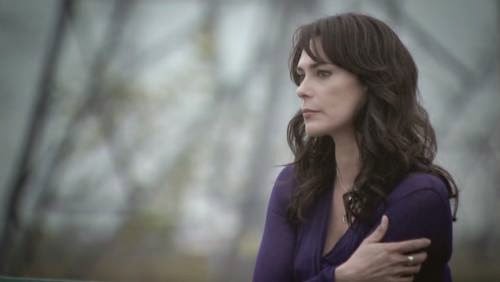 Michelle Forbes in Season 2 of Durham County
If you have not yet seen Season 1 of the "Durham County" TV show, stop reading this now and go here. If you made it through the first season and are curious about what's next, here is a short overview. Season 2 picks up what appears to be a few months later. Ray Prager is locked up, awaiting trial. Mike and Audrey Sweeney have split up. Sadie is freaked out about what happened, but won't really talk to anyone about it. Mike is torn between wanting to get his family back and his attraction to a new woman in town, Dr. Pen Verrity. She is a forensic psychiatrist brought together with Sweeney on a new police case. We quickly realize she has her own troubled family life and secrets. Verrity is played by Michelle Forbes, who had a somewhat similar role in "The Killing" TV series.
As with Season 1, you have to suspend critical judgement at times if you are going to enjoy the ride. The show is like an unhinged version of Law & Order, SVU. There is no reputable police department that would let Mike Sweeney stay involved in this case, and several other things in the show don't quite hold together. Still, "Durham County" is an entertaining series for fans of cop shows and crime drama. If you enjoyed Season 1, you will want to start streaming Season 2.
(2015 update: "Durham County" can no longer be found on Netflix, but it is available to Hulu subscribers.)