Iceland is emerging as a particularly strong player in the Nordic Noir genre of TV series. The most recent evidence is Trapped, tucked away among international TV shows on Amazon Prime. Trapped moves at a glacial pace, slowly reeling viewers in until they're absorbed by every event and detail. The series is another example of how seemingly regular folks involved in (mostly) believable situations makes for the most compelling crime drama.
Andri Ólafsson (Ólafur Darri Ólafsson) is police chief in the remote Icelandic town of Seyðisfjörður (don't bother trying to pronounce it!) situated on a fjord and hemmed in by mountains. It's a small enough place there are only three on the police force. It's also the arrival point for a large Danish ferry, which has the potential to bring in outside trouble. When a dismembered torso is found shortly after the ferry arrives, it's a safe assumption that both victim and killer were on the boat.
Andri and the rest of the force, Hinrika (Ilmur Kristjánsdóttir) and Ásgeir (Ingvar Eggert Sigurðsson), start investigating. The big city cops in Reykjavik make immediate plans to come to Seyðisfjörður and assist, but a severe winter storm keeps them away. It also keeps locals from leaving. Likewise, because of the investigation, the ferry is not allowed to leave. The series title is obvious, but it also works on subtler elements of the story.
The case leads in unexpected directions. The murder is potentially tied to other crimes. A number of secrets in town slowly come to light. There is little action – a couple of brief chase scenes – and not much violence in Trapped, though you may cringe at the corpse close-ups. The drama and suspense is all procedural and personal.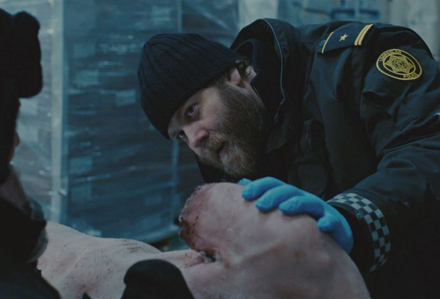 Trapped compares favorably to other mysteries sited in remote locations, such as Hinterland. Andri is almost as quiet and brooding as Hinterland's Tom, but we learn more about him. Andre is living with in-laws while renovating his house. His two young daughters are there too. When his ex comes to visit, bringing her new boyfriend along, Andri burrows in deeper.
The Trapped TV series will not win awards from Iceland's tourism bureau. Snow and ice is everywhere, covering roads, cars, and houses. The landscape is white and shades of gray, with only brief appearances of sun. It's appropriate for the story.
Trapped first aired on Iceland's RUV network in December 2015 and BBC TV a couple of months later. It was created by Baltasar Kormakur. There are 10 50-minute episodes available on Amazon. Trapped season 2 is scheduled for late 2018. Season 1 is one of our favorite foreign TV shows this year. If you liked the Icelandic series Case and The Lava Field, put Trapped at the top of your list.
Scroll down for comments…
Trapped TV series trailer