Red is the color of Peaky Blinders season 4. Red as in the communist revolution making a stand in 1920s England, red as in a trough full of paint, enough to dunk someone's head, let's say, and, of course, red as in blood, splattered and sprayed on every available surface. If you've watched the first three seasons of Peaky Blinders on Netflix, you expect violent scenes with no holds barred. That's probably not why you watch the show, though. It's for the clothes, drama, tension, scheming, double crosses, and for Cillian Murphy as Thomas Shelby. Season 4 delivers on all fronts, and it's all over way too soon.
This season opens a few months after the events of season 3. Most of the Shelby family languishes in prison as one of Tommy's long games. It almost goes wrong, tragically so, and lots of resentment and ill will results. Tommy is isolated from most of his family, living a lonely life in style. It's Christmas season – this release was obviously timed – and each family member receives a holiday greeting that causes them to reunite in defense of the family.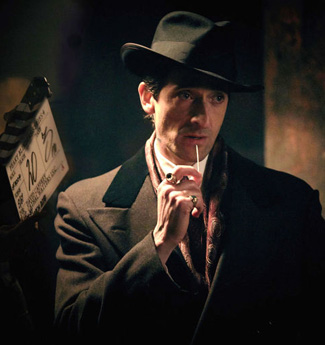 Steven Knight, Peaky Blinder's creator and writer, is not afraid of bold moves. The loss of a major character is always a possibility. That's part of the nervous anticipation that hangs around every episode. It's enhanced by the often tenuous alliances between families and clans. Which are bonds are true and which will be broken for money or favor?
A couple of new cast members add weight to the already strong cast. Adrien Brody (right) must have immersed himself in The Godfather before playing Luca Changretta. His Brando-like mafia character is almost a schtick, but it's a good one, and hard to resist. Aidan Gillen (who pops up frequently on these pages, but is best known as Littlefinger) is almost unrecognizable (below right) as Aberama Gold, head of a gypsy family.
Equally important and captivating is the return of Tom Hardy as Alfie Solomons, the philosophical Jewish mobster. Some of his best scenes occur this season. He and Tommy have a testy relationship, based on mutual distrust and respect for the other's savviness.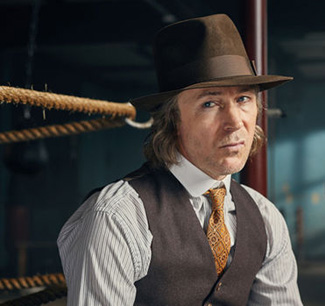 Production values in Peaky Blinders season 4 retain high standards. Scenes are elaborately staged, with contrasts of shadows and light. Smoke and haze filter shafts of sunlight struggling to pierce dark factories and row house interiors. Tobacco crackles every time – which is often – a closeup shows Tommy drawing on a cigarette. Something is always igniting.
Tommy broods more than ever, distant and removed. He and Polly remain, for the most part, a step ahead of everyone else in their scheming. If a few details in Peaky Blinders beg credibility, it doesn't really matter. If you've made it this far, you're along for ride.
Peaky Blinders season 4 was a long wait. Though the end could serve as a series finale, Knight says season 5 is in the works. It will be another long wait. Don't look for season 5 before spring 2019. In the meantime, stream seasons 1 – 4 of Peaky Blinders on Netflix.